All our items are prepared daily by our dedicated team because you shouldn't have to compromise quality for convenience.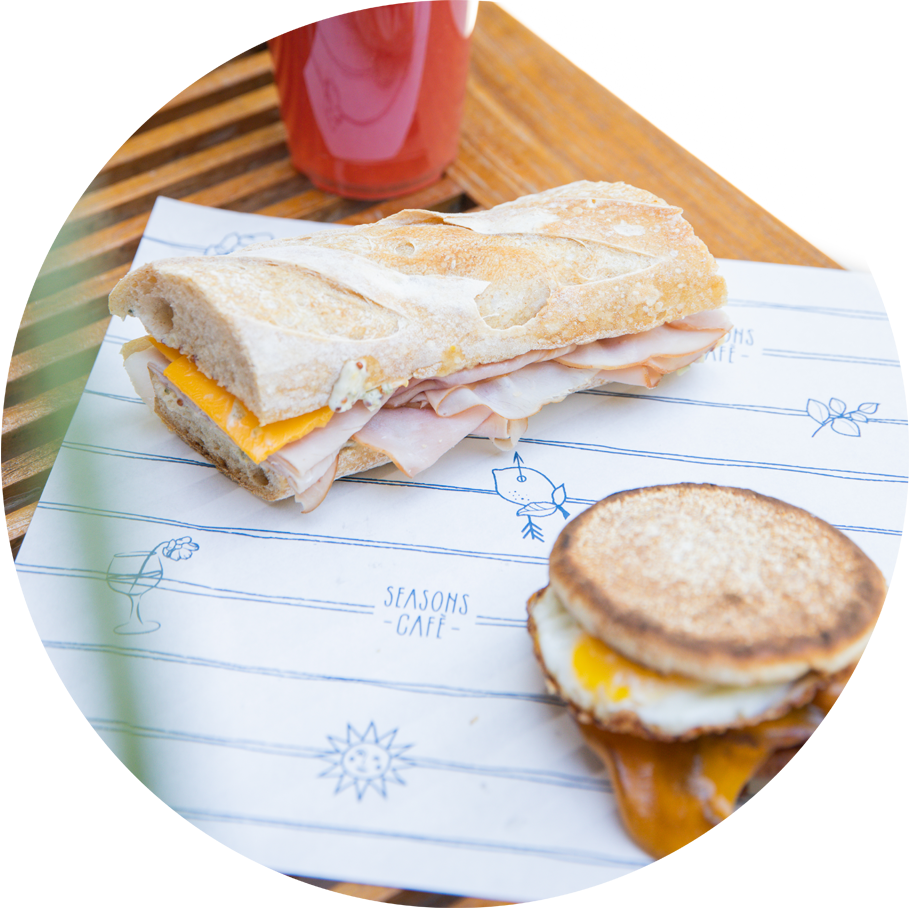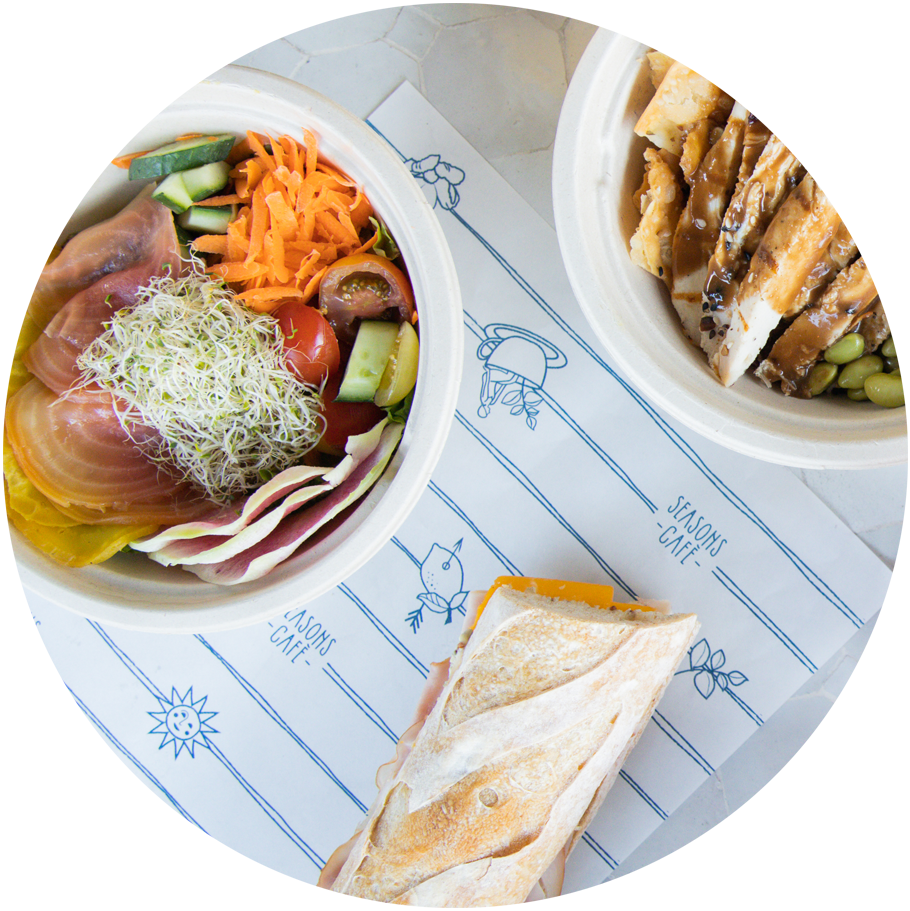 Breakfast Sandwich / $9
Baked Farm-fresh Egg, American Cheese, Niman Ranch Bacon, and Garlic + Herb Aioli on an English Muffin
Breakfast Burrito / $10
Two farm-fresh Scrambled Eggs, Turkey Bacon, Sharp Cheddar Cheese, Black Beans, Avocado, crispy Tortilla Strips, and house-made Fermented Hot Sauce in a 13" Flour Tortilla
Egg & Cheese Empanada / $5
Overnight Oats / $9
Rolled Oats, Peanut Butter, Greek Yogurt, Chia Seeds, and Maple Syrup soaked overnight in Almond Milk, topped with Fresh Fruit and Oat-Date Granola
Yogurt Parfait / $8
Greek Yogurt topped with house-made Jam and Cashew-Oat Granola
Blackberry Muffin / $4.25
House-made.
Banana Bread / $5.50
House-made. Contains Walnuts
Chocolate Chip Cookie / $4
Made with 66% Valrhona Bittersweet "Jivara" Caraibe, Coconut Oil, and Non-Dairy Yogurt. It's Vegan!
Oat Date Bites / $6
Contains Hazelnuts, Walnuts, Pumpkin Seeds, Chia Seeds, Coconut.
Almond cacao Bites / $6
Contains Oats, Chia Seeds, Flax Seeds, Cacao Nibs, Almond Butter, Maple Syrup.
Empanadas / $5
Chicken, Beef or Spinach & Cheese.
Asian Chicken Salad / $16
Red and Napa Cabbage, Carrot, Broccolini, Edamame, Wonton Chips, Slow-Roasted Chicken, and Sun Crumble.
Contains Sunflower Seeds, Pumpkin Seeds, and Sesame Seeds.
Market Salad / $10
Spring Mix topped with Carrots, Watermelon Radish, Heirloom Cherry Tomato, Cucumber, Golden Beets, Candy Stripe Beets, and Alfalfa Sprouts 
Grain Bowl / $12
Tricolor Quinoa, Curried Cauliflower, Currants, Carrot, Red Cabbage, and Baby Kale 
Kale Caesar / $10
Black Kale topped with Garlic Croutons and Parmesan Cheese
Pesto Caprese Panino / $12
Fresh Mozzarella, Heirloom Tomato, Walnut Pesto, Aged Balsamic and EVOO served on Sullivan St. Bakery Mezzo Doppio
Tuna Wrap / $10
Line-caught Albacore Tuna Salad, Lemon Yogurt Dressing, Alfalfa Sprouts, and Avocado on a 12" Whole Wheat Tortilla
Choose a dressing / $1
Apple Cide Vinaigrette, Balsamic Vinaigrette, Creamy Casesar, Green Tahini or Peanut Dressing.
Trophy Farms Cashews / $8
Iced Seasons Whip / $5.50
Blended Espresso, Honey, Oat Milk
Hot Tea / $4
Harney & Sons English Breakfast, Green Tea, Mint, Chamomile
Fresh Pressed Juice / $5
Ginger, Turmeric, Celery, Apple, Lemon
Fresh Lemonade / $5
Lemon, Honey, Cayenne, Bee Pollen
Bear's Fruit Kombucha / $6
Wellie Water / $2.75 / $3
Consuming raw or under-cooked meats, poultry, seafood, shellfish or eggs may increase risk of food-borne illness. Please notify your server of any food allergies you may have. If you have chronic illness of the liver, stomach or blood or have immune disorders, you are at great risk of serious illness from raw oysters, and should eat oysters fully cooked.

We're always adding fresh new menu items. To keep up with us and what we're all about follow us on Instagram.